Greetings again from the Teen Link blog.
We KNOW that the school year probably has you pretty bogged down at this point, but when you come up for air and find some time to relax we've got some suggestions for you. Here are some new (and old) shows to tune into for some hilarious comedic relief!
Title: Community
Time: Thursday 8:00 PM
Channel: NBC
Summary
: Starring
Joel McHale
(of "The Soup" fame and get this - he's a local Seattle boy!! Joel graduated from Mercer Island High School and went to college at UW) and comedy legend
Chevy Chase
.
This is a show about a quirky group of Greendale Community College attendees, who form a study group. The show is witty, entertaining, and hilarious and will provide comic relief to any bad day.
Our Rating: ****
Title:
The Office
Time: Thursday 9-9:30 PM
Channel: NBC
Summary
: Michael Scott (Steve Carell) is in charge of the Scranton office for Dunder Mifflin Paper Company.
The office and it's employees are truly a strange and interesting bunch and will keep you laughing from the beginning of the catchy theme song to the end of the half-hour.
Rating: ***
Title: Glee
Time: Tuesday 8:00 PM
Channel: FOX
Summary
: Glee is in its second season and is gaining more and more fans with every episode.With guest stars like Britney Spears John Stamos and comedy legend Carol Burnett, season 2 is a safe bet to be even more popular this time around.
The Glee club is home to a mixture of students from every clique and cliché and make the perfect set-up for loads of some-what comedic drama. But what makes this show better then the rest of the teen dramas is this show has musical numbers in every show, not to mention they are outstanding.
Rating: ****
Time: Tuesday 9-9:30 PM
Channel: FOX
Summary
: Entering its first season, this show is about a guy named Jimmy Chance (Lucas Neff), who knocked up a serial killer and is left with the baby, Hope.
Jimmy still lives with his outrageous family in what is way short of the American dream family. This show makes you cringe, tear-up, laugh hysterically, and will always leave you with a warm feeling.
Rating: **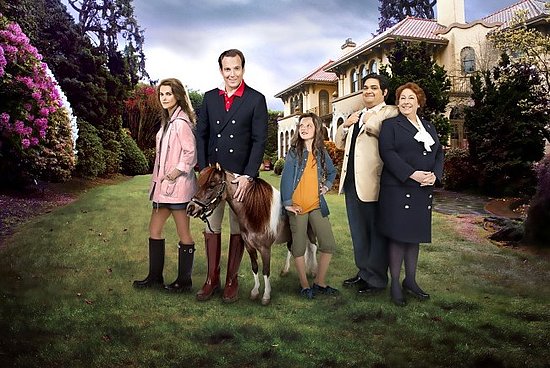 Title: Running Wilde
Time: Tuesday 9:30-10 PM
Channel: FOX
Summary
: This show is about Steve Wilde (Will Arnett) a rich, oil company owner who is desperately trying to win the love and approval of Emmy Kadubic (Keri Russell) the nature-loving humanitarian.
What makes this show interesting is it is told through the eyes of Emmy's daughter, a 12-year old girl who desires nothing more than to live a normal American life, out of the jungle.
Rating: **
ENJOY...